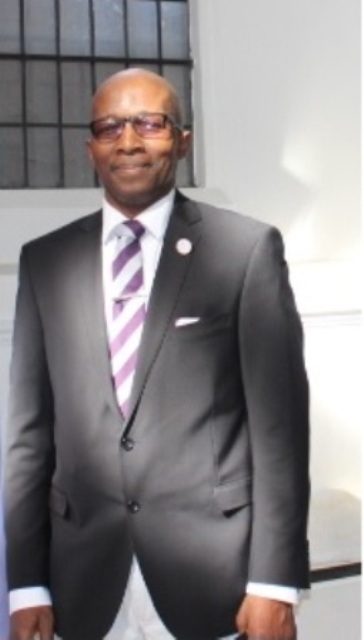 Message from Jesse Richards Chairman 2018/21
Fellow Regentonians and Supporters,
I greet you with open hands and welcome you to the webpage of the SLGSOBA (UK)
As the newly elected Chairman at our last Annual General Meeting, I want to take this opportunity to thank all the members for putting their trust in me to lead this prestigious Association.
I express my gratitude to my family and God Almighty for aiding me achieve this position. It is a great pride and joy to lead and serve my Alma Mater.
It is very heartening therefore as former Social Secretary, former Vice Chairman and now Chairman to see our work bear fruits and indeed it has been an eventful eight years since I joined the Association.
I would like to thank the previous and past Chairmen and Executive members who have worked tirelessly in putting the UK branch on the global map.
As many of you know the school in Freetown has gone through a change of Principals. Mr Akinwande Lasite retires as Principal after serving the school for over 30 good years. He has been a mentor to most of us in attaining our educational achievements. I would like to thank him for his profound services rendered to the school and wish him
well in his retirement.
A new Principal has taken office by the name of Reverend Kenneth Davies and I want to wish him many many years in office as Principal.
During my eight years as member and Executive member, the Association has supported the school in various areas - the scholarship fund, which has been our biggest support to the school, we have also sent up to date computers, printers, printer cartridges, library books, school ties and bow ties and many more. Our aim is to provide more for the school and so I am therefore appealing to you all to support us in any way deemed important to the school.
It remains my humble wish that the school continues to shine as a lighthouse of goodness and fruitfulness, and pray that the ones who pass through the corridors may become caring, productive, responsible citizens and future leaders of the country.
Finally, I commend the entire members of the UK and USA branches, the entire management and staff of the school for their dedication to the institution. I pray that God will shower us with divine grace and blessings and that the school continues to grow in faith and integrity.
God Bless you all and God Bless our Grammar School.
FLOREAT REGENTONIA
JESSE S. W. RICHARDS (7697)
CHAIRMAN SLGSOBA (UK) BRANCH